In May 2020, Dessine l'Espoir undertakes to protect the 4,000 HIV-positive patients at Piggs Peak hospital in Swaziland from the risks of Covid19. With the support of the A&A Ulmann fund.

A lasting partnership with the Piggs Peak Regional Hospital, Eswatini
Designing Hope has worked alongside the Piggs Peak hospital in Eswatini since 2005. This support try to meet the needs of the hospital, supports the most fragile patients, with multiform concrete long-term collaborations : food support to patients, purchase of equipment, distribution of condoms packaged in attractive cases, awareness campaigns.
In the context of Covid epidemic19, Designing Hope asked the hospital about its needs, in particular at the HIV Vontuntary Testing and counceling center (VTC), which brings together a population more sensitive to the virus.
The lack of hydro alcoholic gel and masks were identified as priority needs.
Patient protection with masks and gel
The association was able to quickly acquire 25 liters of hydro alcoholic gel for the needs of caregivers, and to equip the consultation rooms.
In parallel, it set up a mask manufacturing workshop with Designing Hope's local partner NGO Fundzisa Live.
Hundreads of meters of cotton were purchased to produce 4000 masks in fabric , in order to distribute one to each patient.
Production started at the end of April 2020, and distribution is carried out daily on patients' visit to the hospital, to pick up their treatment. This monthly visit was arranged to be bimonthly during confinement, in order to reduce the risk of contagion in the waiting room, which could accommodate more than 100 patients (number reduced to 50 now).
This gives a rhythm to the production, which involves 2 groups of 10 women associated with the sewing activity, working alternately to again avoid confinement. Each morning, the women come to drop off their products from the day before at the reception center.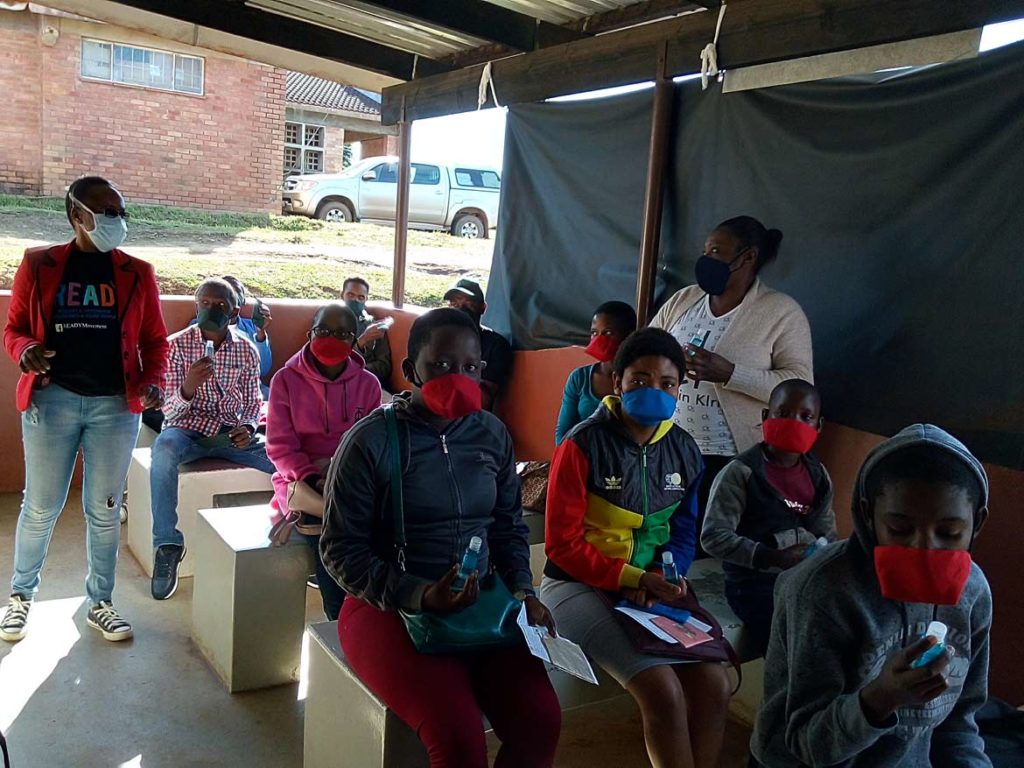 To prevent the mask from getting dirty, a 2-compartment pouch has been designed to store the mask and the hydroalcoholic gel.

Production for the local market.
In addition to this order to protect HIV-positive patients, 700 additional masks were also pre-funded by Designing Hope, intended for sale on the local market at an attractive price (2 euros per pouch, including mask and gel). They will be available in a selection of local shops.
This project was implemented with the support of the A&A Ulmann Fund.