7 years of collaborations with the biggest names in fashion.
In 2003, "La Mode Dessine l'Espoir" has sensitized the general public through the mobilization of many fashion designers around a symbolic theme: light, with decorated lightbulbs realized by HIV-positive women in South Africa, followed with a collection of lampshades embroidered in Swaziland, "squares of hope" unique framed drawings, flowers, and a unique doll designed by Alber Elbaz for Lanvin.
FASHION DESIGNING HOPE – FIRST MOBILIZATION IN 2003
In 2003, Dessine l'Espoir mobilized the great names of Fashion around a symbolic object: A light bulb.
The creators are asked to entrust the association with the design of a bulb, the objective being to realize a prototype that would then be reproduced by HIV-positive women in South Africa.
The goal was twofold for the young association, founded the same year:
Find funding to finance awareness campaigns in Africa by organizing an auction sale of the original designs and prototypes of the lightbulbs on the one hand,  and designing an object that could become a resource creator for South African women in Africa, Association Wola Nani partner of Designing Hope on the other hand.
AN INCREDIBLE MOMENTUM OF SOLIDARITY
The first edition of "La Mode Dessine L'Espoir" generated an incredible momentum of solidarity in December 2003:
35 fashion designers joined the project, including Agnès b., Alek Wek, Cacharel, Chantal Thomass, Christian Lacroix, Enki Bilal, Franck Sorbier, Isabel Marant, Martine Sitbon, Maurizio Galante, Michel Klein, Nathalie Garçon, Paco Rabanne, Pierre Balmain, Nina Ricci, Stella Cadente, Thierry Mugler, Sonia Rykiel, Stéphane Saunier, Vivienne Westwood, Xuly Bet, Jean-Charles de Castelbajac, Marithé & François Girbaud …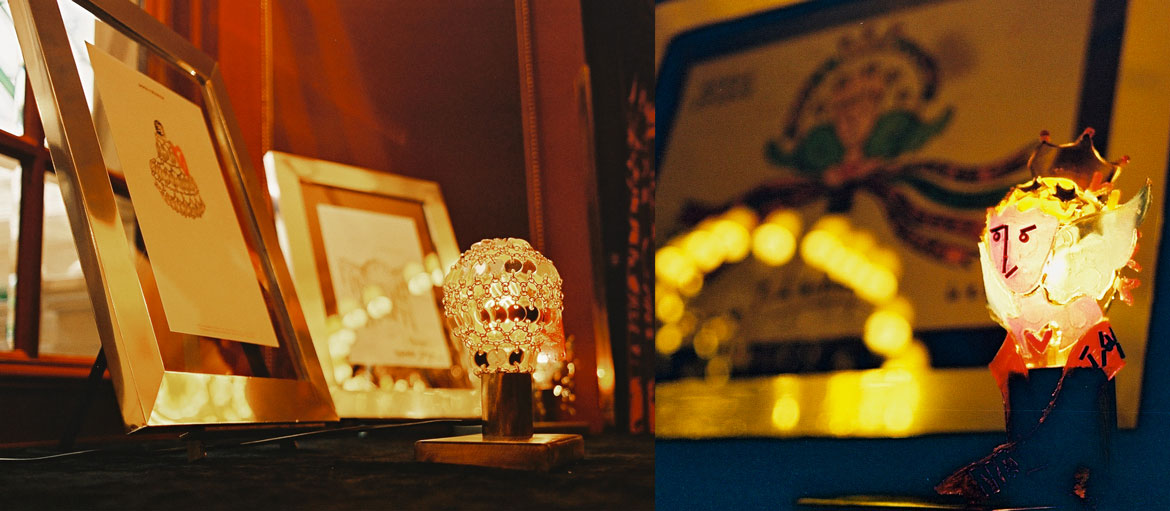 Paco Rabanne and JC de Castelbajac lightbulbs
The Auction, held at the Grand Hotel in Paris, under the direction of Maître Rémy Le Fur, and the patronage of the Minister of Culture, brought together 50 personalities. Some patrons such as Muriel Robin, Charlotte Rampling, Jean-Louis Aubert, Dani, Jacques Séguela, Lio, Lambert Wilson, Julie Depardieu, Mouna Ayoub, Natasha Saint Pier, Stéphane Diagana presented a light bulb on the evening of the sale …
The BHV department store has exceptionally supported the project by offering a national Christmas display campaign featuring light bulbs and donating all the profits from the sale of light bulbs to the association. The media (TV, print and audio) also strongly supported the initiative. 30 Women were trained locally and involved in the manufacture of the decorated light bulbs.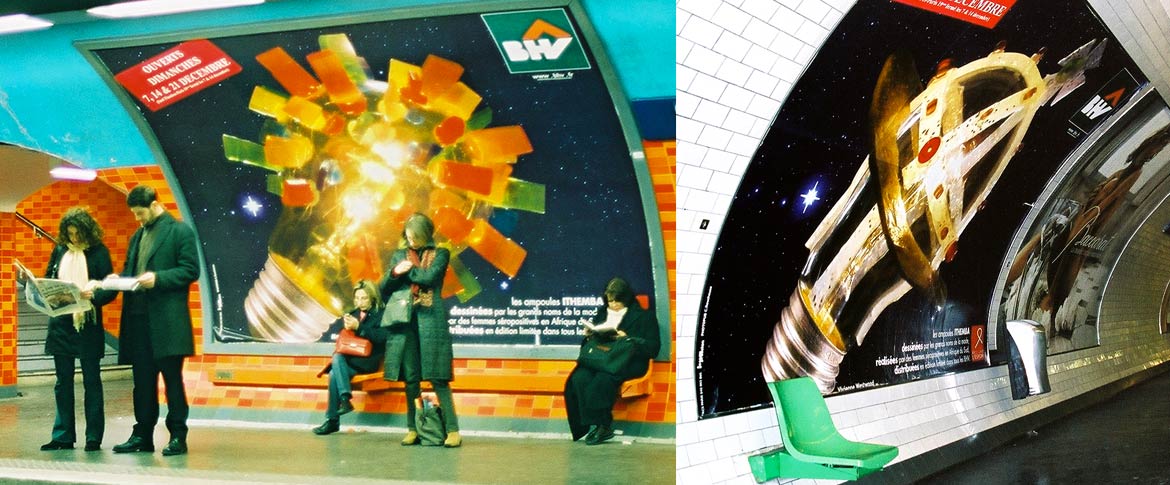 2004 – SECOND EDITION, NEW CREATORS
This second edition received the high patronage of Mr. Bertrand Delanoë, Mayor of Paris. The Auction was again directed by Maître Rémy Le Fur. For this new edition, Jean Paul Gaultier opened the march with his famous tattoo reproduced on a bulb, along with 35 other designers including Nanette Lepore, Missoni, Karine Arabian, Pierre Cardin, John Galliano, Lolita Lempicka, Philippe Starck, Irina Volkonski, E2, Sissi Holleis, Nina Ricci, Calvin Klein, Gianfranco Ferrè, Unarmed Response, Stoned Cherrie, Sonia Rykiel, Givenchy, Loulou of the Cliff, Michel Klein, Han Feng, Stephen Burrows, Maurizio Galante, Odette Bombardier Finseth and Kenneth Cole.
Several creators have also renewed their participation with new design (Nina Ricci, Maurizio Galante, Stella Cadente, Paco Rabanne …).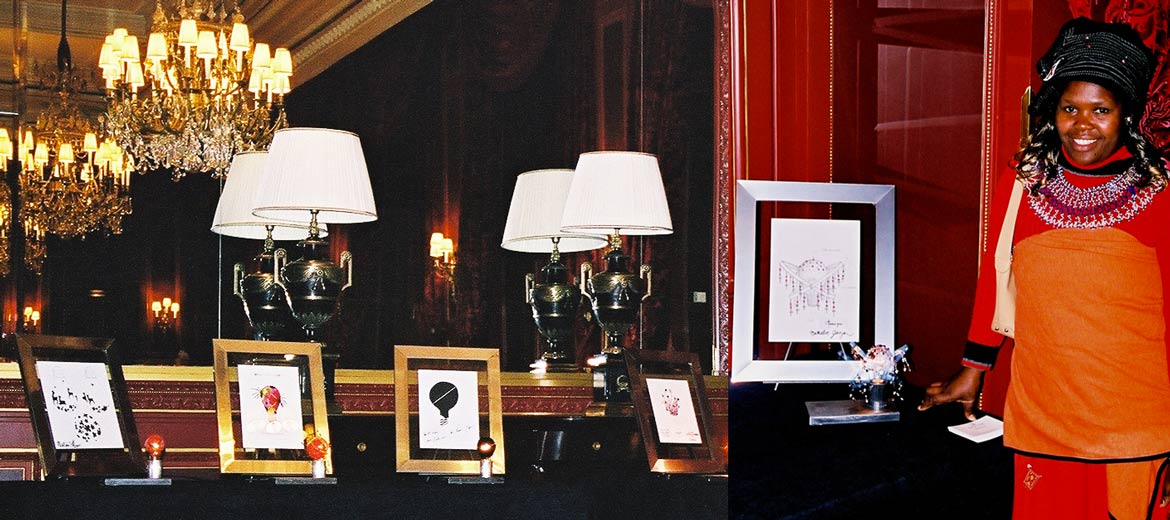 Designing Hope thanks the partners who helped the launch "Fashion Designing Hope":
Maître Rémy le Fur, The Grand Hotel Paris, , Baxter, Arnaud Contreras, Christian Rouchouse, Optimark, Franck Desplats, Editions Glénat, BHV, Air France, the French Women's Ready to Wear Federation, all event sponsors, volunteers and anonymous donors who supported Designing Hope in this adventure, and of course all creators for their generous inspiration.
2007 NEW CONTRIBUTIONS FROM CREATORS: SQUARES OF HOPE
Each creator has entrusted the association with a unique square drawing.
These designs, characteristic of a particular universe and style, were then embroidered on square canvas by a group of women affected by HIV in Swaziland.
These "Squares of Hope" were framed, exhibited at the Museum of Decorative Arts in Paris, then auctioned for the full benefit of Dessine l'Espoir, during an evening organized at the Espace Pierre Cardin. Beaded Pocket mirrors inspired by these "Square of Hope" were also made by HIV-positive women from Roosboom in Kwazulu Natal – South Africa
2008 – EMBROIDERED LAMPSHADES
In partnership with Ithemba, and with the support of the BHV Department store, Designing Hope launched a collection of lampshades, integrating the embroideries of Swazi women carrying the drawings from Alber Elbaz for Lanvin, Jean Charles de Castelbajac, Kris Van Assche, Martin Margiela, Paul Smith, Stella Cadente, Viktor & Rolf, entrusted to Designing Hope.
The sale of each lampshade contributed to the financing of Designing Hope's projects engaged in Africa.
2010 FLOWERS FOR DESIGNING HOPE'S CHARITY DINNER AT ART PARIS
In 2010, Dessine l'Espoir was invited to organize a gala dinner at the opening of Art Paris.
It will be a new opportunity for 15 creators to entrust the association with a new design, a flower this time.
The drawings were embroidered on the napes of the dinner, and made of wire as centerpieces to decorate each table, that were auctioned during the diner.
In 2011, it is Alber Elbaz who will sign the following dinner, then Christian Louboutin in 2012.

2012 & 2014: LANVIN PETITE DOLLS
The prestigious fashion house has entrusted the association with the creation of a limited edition of figurines and their dresses, miniature replicas of the collection "Lanvin Petite". Dolls were put on sale in the shops distributing the Lanvin Petite collection all over the world. This project contributed to the financing of the "Uniforms and Differences" project, the sale of a doll financing the making of a school uniform for a child in need.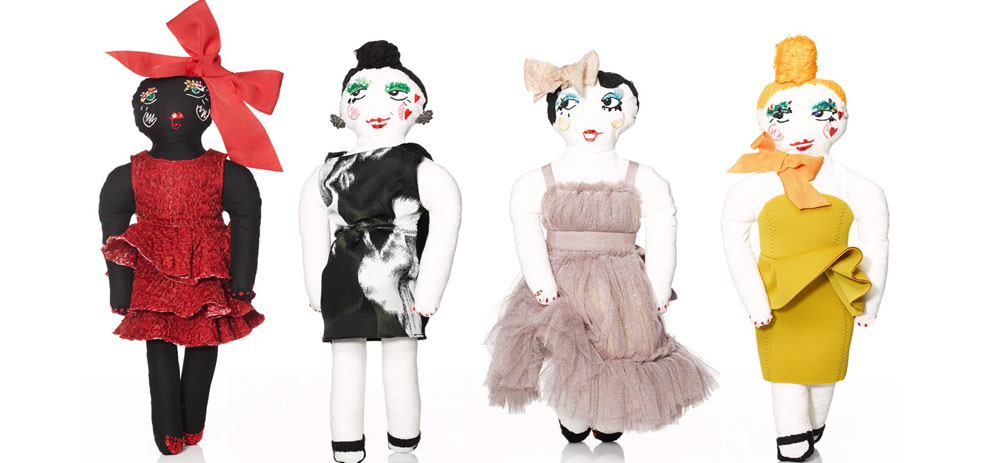 Lanvin Petite dolls